This peer-reviewed internationally acclaimed professional-cum-learned journal was launched in 1998 to meet the needs of the global condition monitoring community. It is now published online. The International editorial board consists of prominent academics, consultants, engineers, scientists, technologists and management specialists representing a wide sector of the economy. This leading edge technology management journal is interdisciplinary based and is totally dedicated to:
Advanced Sensor Technology
Higher Education and Training
Health & Safety
Intelligent Manufacturing
Risk Management
Technology Management
Industrial Logistics
Industrial Tribology
Bio-medical Engineering
RCM
TQM
Structural health Monitoring
Advanced Signal Processing
Machinery/Process Health Monitoring
Environmental Management
The Journal covers refereed technical papers, industrial case studies and best practice tutorials, critical overviews, technical literature abstracts, latest news, events and conferences calendar, book reviews, etc.
It is indexed in INSPEC, Current Contents, NASA Center for Aerospace Information, British Library, Elsevier Bibliography Index etc.
Click here to see the content of previous published issues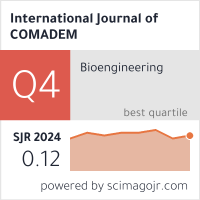 The Journal is an invaluable knowledge treasure to all decision makers in industry, R&D establishments, academic and professional institutions, young researchers, technicians and students alike! The Journal is well subscribed by individuals, university and industrial libraries & research-based institutions from all over the world.
Editor-in-Chief and Publisher
Prof. Dr. B.K.N. Rao, COMADEM International, UK (rajbknrao@comadem.com)
Associate Editors
Dr Krzysztof Kubiak, University of Huddersfield, UK (k.kubiak@hud.ac.uk)
Prof. Dr. Rakesh Mishra, University of Huddersfield, UK (r.mishra@hud.ac.uk)
Dr. Phillip Tretten, Lulea University of Technology, Sweden (phillip.tretten@ltu.se)
Prof. Aditya Parida, Luleå University of Technology, Sweden (aditya.parida@ltu.se)
Editorial Advisory Board
Dr. Fengshou Gu, University of Huddersfield, UK (f.gu@hud.ac.uk)
Prof. Uday Kumar, Luleå University of Technology, Sweden (uday.Kumar@ltu.se)
Prof. Per Schjolberg, Norway (per.schjolberg@ipk.ntnu.no)
Dr. Kari Komonen, Vaasa University, Finland (kari.komonen@saunalahti.fi)
Dr. S. Raadnui, King Mongkut's University, Thailand (srr@kmutnb.ac.th)
Prof. Dr. P.S. Heyns, University of Pretoria, South Africa (stephan.heyns@up.ac.za)
Prof. Joe Amadi-Echendu, South Africa (joe.amadi-echendu@up.ac.za)
Dr. Aitor Arnaiz, Spain (aarnaiz@tekniker.es)
Prof. Adolfo Crespo Marquez, Spain (adolfo.crespo@esi.us.es)
Prof.  M. Pecht, University of Maryland, USA (pecht@calce.umd.edu)
Dr. Ahmed Onsy, University of Central Lancashire, UK (aonsy@uclan.ac.uk)
Dr. Md. Tawhidul Islam Khan, Saga University, Japan (khan@me.saga-u.ac.jp)
Prof. Luis Ferreira, Portugal (lferreira@fe.up.pt)
Prof. Juraj Grencik, Slovakia (juraj.grencik@fstroj.uniza.sk)
Prof. Paulien Herder, The Netherlands (p.m.herder@tudelft.nl)
Prof. Benoit Iung, France (benoit.iung@cran.uhp-nancy.fr)
Dr. Dimitris Kiritsis, Switzerland (dimitris.kiritsis@epfl.ch)
Prof. Liliane Pintelon, Belgium (liliane.pintelon@cib.kuleuven.be)
Dr. Michael Schwarz, Germany (m.schwarz@uni-kassel.de)
Dr. Mirka Kans, Linnaeus University, Sweden (mirka.kans@lnu.se)
Prof. K. Schmidt, Frankfurt University of Applied Sciences, Germany
Dr. Radoslaw Zimroz, Poland (radoslaw.zimroz@pwr.wroc.pl)
Prof.  Srinivasa Pai, India (srinivasapai@rediffmail.com)
Prof. Nalinaksh S Vyas, IIT Kanpur, India (vyas@iitk.ac.in)
Prof. Faisal I. Khan, Memorial University, Canada (fkhan@engr.mun.ca)
Prof. M. G. Lipsett, University of Alberta, Canada (mlipsett@ualberta.ca)
Prof. Gao Jinji, Beijing University of Chemical Technology, PRC (gaojinji@263.net)
Prof. Niaoqing Hu, National University of Defence Technology, PRC (hnq@nudt.edu.cn)
Honorary Managing Editor
Aruna Ing Rao, UK